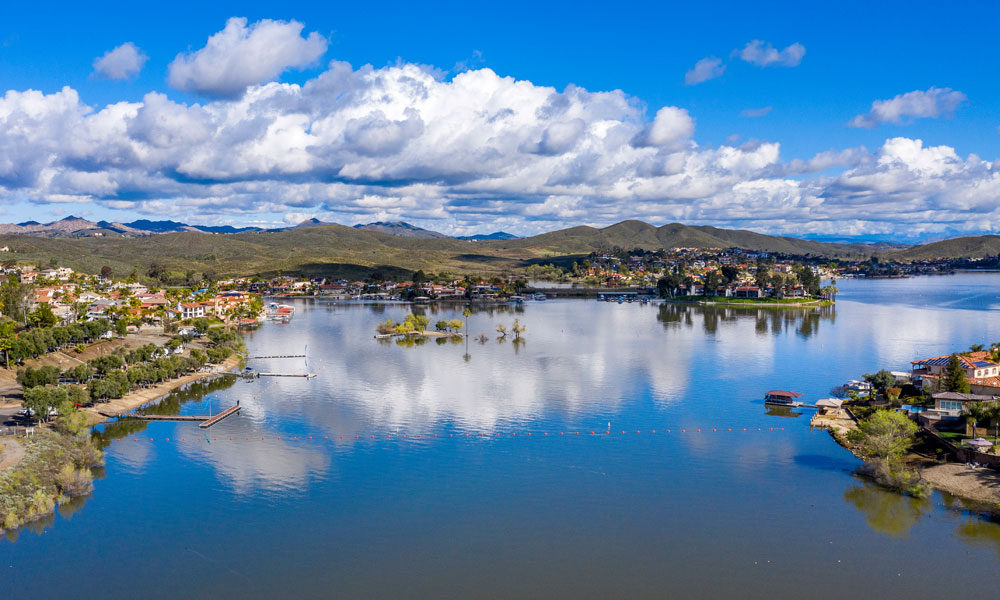 Canyon Lake is situated around the Canyon Lake Reservoir. A drinking water reservoir, with water and beach areas owned by the Elsinore Valley Municipal Water District, provides a recreation playground for residents who live within the private, gated community. Flows of the water move through the San Jacinto River Watershed and are eventually stored in Canyon Lake. In 1927, the Railroad Canyon Dam was built to keep flows stored in the lake. During times of heavy rain events, water can spill over the dam and pour into Lake Elsinore. Sedimentation from the upper watershed moves through Canyon Lake and eventually Lake Elsinore, which can impair quality in both lakes.
Historically, Canyon Lake has been known to suffer from algal blooms. As a body of water situated at the end of a watershed, it is susceptible to high levels of nutrients from run off, such as nitrogen and phosphorus. These nutrients encourage algae growth. By adding alum to the water, it immediately binds to the phosphorus, causing it to neutralize and become inactive. The alum process was chosen as a means to improve lake quality due to its proven effectiveness in lakes throughout the country. LESJWA has been responsible for organizing the alum treatments, which have proven to be successful in minimizing algae growth.
Historical Lake Facts
1927

The Railroad Canyon Dam took nearly two years to build.
1930's

During the 1930's Canyon Lake and the surrounding area was used as a recreational area for camping, fishing and hunting.
1968

In 1968, Canyon Lake was developed into a master-planned, private community.
March 2007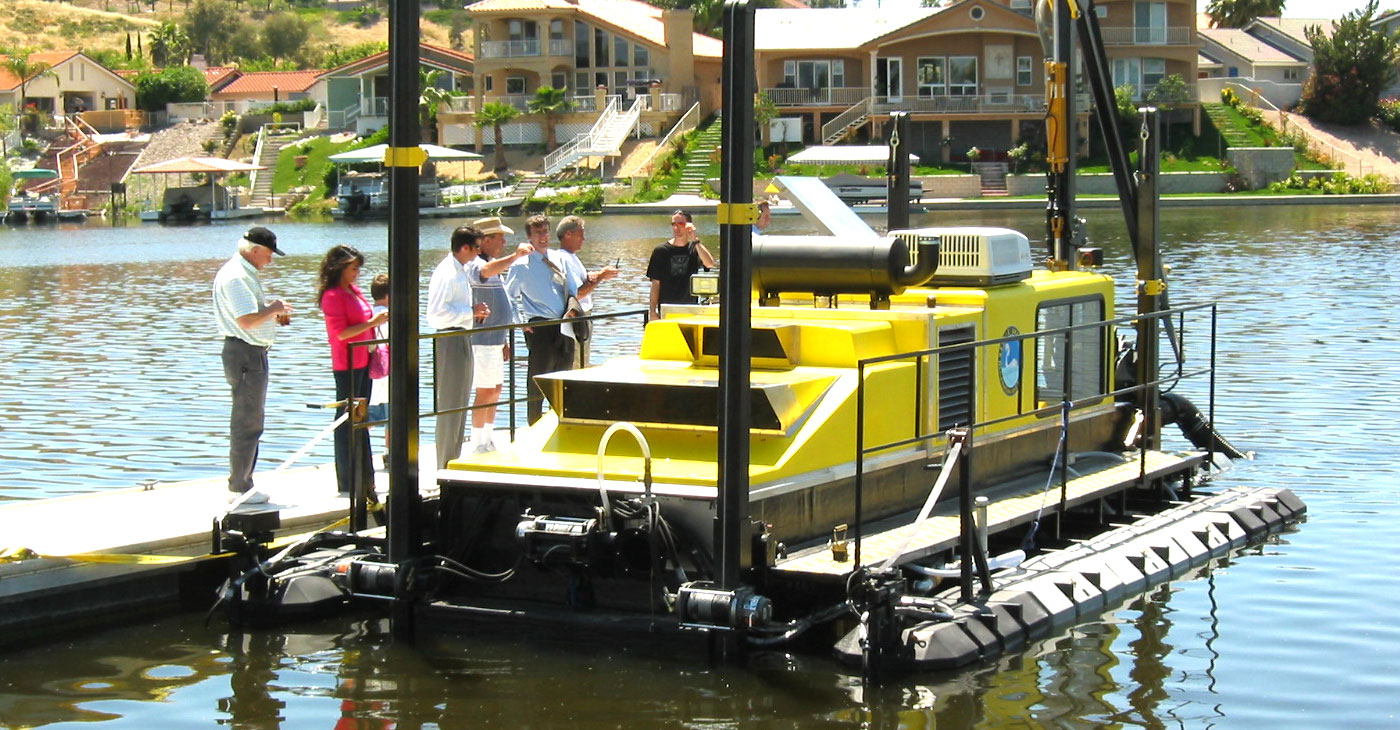 The Canyon Lake Dredging Project removed 20,000 cubic yards of excess sediment from Canyon Lake and improved water quality for recreational use. Efforts from LESJWA and its member agencies made this project possible.
September 2013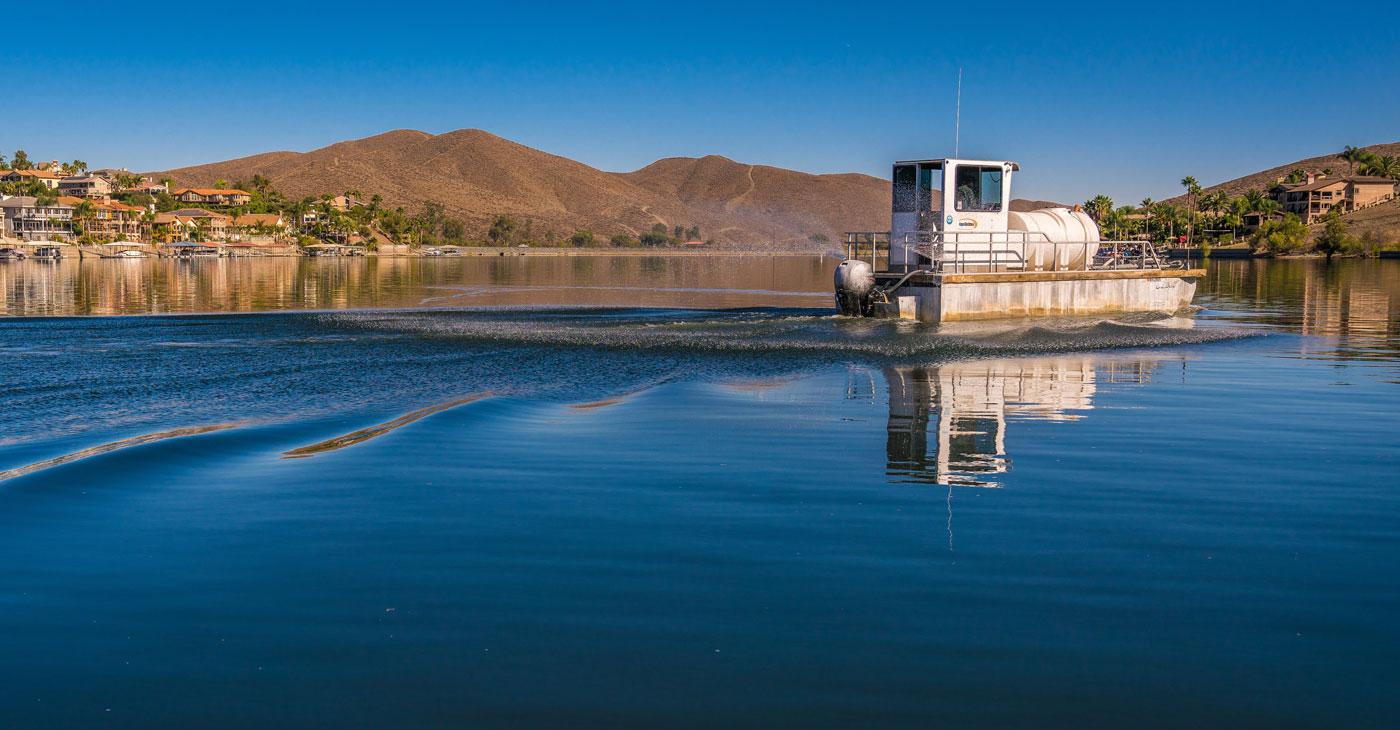 Alum applications have been used to reduce nutrients in Canyon Lake, which minimizes the opportunity for algae growth.
Current-day

Current-day Canyon Lake sits on what was once part of the Southern California Railroad line. The line, which ran along the east side San Jacinto River. It was later purchased by the Santa Fe Railroad.
Additional Resources
Media
Canyon Lake Alum Treatment