Scientific research identified the best methods for improving the water quality in Lake Elsinore and Canyon Lake, all of which are the basis for LESJWA's projects.
LESJWA's research and leading water industry experts indicate that the challenges involved with improving water quality in the Lake Elsinore and San Jacinto Watersheds are more complex than originally thought.
Efforts to identify and implement the most effective solutions for improving water quality and wildlife habitats included hiring a research team of leading water industry experts to complete scientific studies necessary to identify the most effective lake and watershed clean-up projects including these projects below.
Most of the current lake improvement studies and implementation measures are now being conducted to assure compliance with the TMDLs and are led and funded by the Lake Elsinore/Canyon Lake TMDL Task Force, which LESJWA administers.
Click each project name to learn more:
Canyon Lake Alum Application
LESJWA is supporting the Lake Elsinore and Canyon Lake Nutrient TMDL Task Force with a proposed new project at Canyon Lake called the Canyon Lake Alum Treatment. The proposed project will apply alum in Canyon Lake Main Body and East Bay in five applications over the next two years to remove nutrients and reduce algae growth. Details about the project are described in the following documents:
Project Documents
Lake Elsinore Wetlands Enhancement Project
LESJWA received a Prop 40 Grant to enhance a portion of an existing 356 acre mitigation wetland.
Project Photos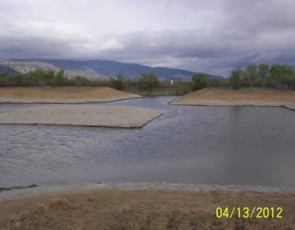 Lake Elsinore Carp Removal
Removed more than 1 million pounds of carp from Lake Elsinore. Carp stir up nutrients on the lake bottom, which can cause harmful algae blooms.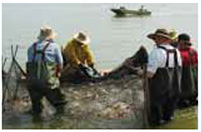 Island Well Pump Station Improvements
Island wells produce one million gallons of water a day to help stabilize Lake Elsinore's water level.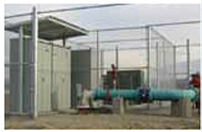 Striped Bass Stocking
Added hybrid striped bass in Lake Elsinore to help control overpopulation of fish that disrupt lake water quality.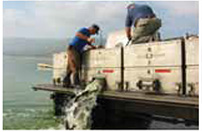 Lake Elsinore Destratification & Mixing System
Mixes lake water to increase oxygen levels, improve water quality and reduce harmful algae growth.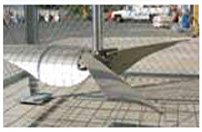 Canyon Lake Dredging Project
Removed 20,000 cubic yards of excess sediment from Canyon Lake and improved water quality for recreational use.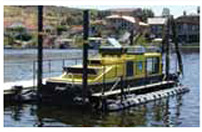 Recycled Water Nutrient Removal & Conveyance Pipeline
Removes excess nutrients from recycled water and brings the water to Lake Elsinore, improving water quality and helping to stabilize the lake level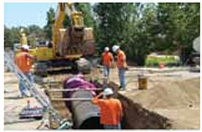 Lake Habitat Improvements
In addition to new shallow water habitat in the Lake Elsinore Back Basin wetlands area, future efforts will help establish diverse aquatic plant communities at both lakes to increase biodiversity and improve water quality.