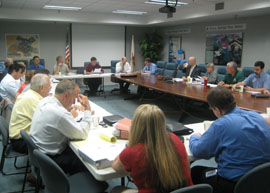 Since December of 2004, LESJWA has served as the administrator for the Lake Elsinore and Canyon Lake Total Maximum Daily Load (TMDL) Task Force composed of stakeholders throughout the San Jacinto Watershed. Working together with the Santa Ana Regional Water Quality Control Board, the Task Force conducts stormwater and lake water quality monitoring, modeling, and studies to determine how best to meet water quality targets for Lake Elsinore and Canyon Lake. For information on the next TMDL Task Force meeting, contact Sara Villa at svilla@sawpa.org.
---
Regulatory Links
Regional Water Quality Control Board (RWQCB) doc
Under Section 303(d) of the Clean Water Act, the Regional Water Quality Control Board (Regional Board) is required to identify surface waters that do not or are not expected to meet water quality standards (beneficial uses, water quality objectives) with the implementation of technology–based controls. Once a waterbody has been added to the 303(d) list of impaired waterbodies, a Total Maximum Daily Load (TMDL) must be developed for that waterbody and the pollutant causing impairment. A TMDL is established to address the pollutant causing impairment and thereby ensure that a waterbody will attain and maintain water quality standards, taking the existing pollutant loads and reasonably foreseeable increases in pollutant loads into consideration.
In 1994, the Regional Board placed Lake Elsinore on the Clean Water Act Section 303(d) list of impaired waterbodies. This was due to the lake's ongoing problem with hypereutrophication, or an excessive amount of nutrients, namely phosphorous and nitrogen, in the water. This in turn caused high algal productivity and fish kills. In 1998 and 2002, Lake Elsinore was listed for unknown toxicity, nutrients, organic enrichment/low dissolved oxygen and sedimentation/siltation.
Similar to Lake Elsinore, eutrophication has also caused water quality problems in Canyon Lake. The Regional Board placed Canyon Lake on the 303(d) list of impaired waters in 1998 and 2002 due to excessive nutrient levels (phosphorous and nitrogen) that has resulted in high algal productivity. The high amount of algae causes high turbidity in the lake, making Canyon Lake an uninviting murky green color at times. Canyon Lake serves as a domestic water supply to EVMWD customers. The eutrophic conditions in Canyon Lake impact the MUN beneficial use.
An amendment to the Basin Plan to incorporate Lake Elsinore and Canyon Lake Nutrient Total Maximum Daily Loads (TMDLs) were approved by the Regional Board on December 20, 2004, by the State Water Resources Control Board on May 19, 2005, by the Office of Administrative Law on July 26, 2005 and by the US Environmental Protection Agency on September 30, 2005. The adopted TMDLs specified a set of implementation tasks, responsible parties, and compliance dates.
Since December of 2004, SAWPA/LESJWA staff has been working closely with Stakeholders under the Santa Ana Regional Water Quality Control Board's San Jacinto Nutrient TMDL Basin Plan Amendment for the implementation / development of stormwater and lake water quality monitoring program, updates to nutrient source assessment models, and additional studies to further understand the impairment processes affecting Lake Elsinore and Canyon Lake.
In June 2005, LESJWA hired Tetra Tech Inc. using Proposition 13 funding to conduct a study to evaluate the existing TMDL monitoring program and make a recommendation to the most cost efficient and effective monitoring program to address the Lake Elsinore & Canyon Lake nutrient TMDLs. It was recommended that a reduced monitoring program that focused on lake analysis for the first three years, then transitioned into an expanded upper watershed monitoring program. The LESJWA Board requested SAWPA provide staff to support the TMDL Task Force administration. The purpose of the TMDL is to improve water quality and attain water quality standards at both Lake Elsinore and Canyon Lake.
Meeting Materials
Technical Advisory Committee: Agendas, Meeting Notes, Handouts and Presentations
San Jacinto River Watershed
Lake Elsinore and Canyon Lake are located in the southwestern portion of the 780 square-mile San Jacinto watershed approximately 60 miles southeast of Los Angeles. Most of the San Jacinto River watershed falls within Riverside County; however, a small western section is located in Orange County.
Flow to the San Jacinto River begins in the San Jacinto Mountains, then travels northwest along the San Jacinto fault zone. The river then flows through Canyon Lake and exits the Perris Block into the lower Elsinore Basin created by the Elsinore fault zone. Canyon Lake is located near the watershed outlet and was formed by the damming of the San Jacinto River. Runoff from as far as Moreno Valley, San Jacinto, Hemet, and Perris contribute to surface flows that reach Canyon Lake during rainfall events. Over 90 percent of the San Jacinto watershed drains to Canyon Lake. During normal dry periods, the San Jacinto River is essentially dry, contributing little or no flow to Canyon Lake. Lake Elsinore is located approximately 3miles downstream of Canyon Lake, at the bottom of the San Jacinto watershed. The local tributary area to Lake Elsinore is 47 square-miles. Surface flow from the watershed reaches Lake Elsinore through release, overflow, or seepage from the Canyon Lake dam. Lake Elsinore acts much like a sink, with almost nonexistent outflow.
In rare situations, including torrential rains and extended rain periods, the lake overflows into Temescal Creek, and ultimately to the Santa Ana River.
Since 2000, stakeholders, in cooperation with the Regional Board, have been working to identify the source of nutrients impairing each lake, and evaluate the impacts to water quality and beneficial uses incurred from nutrient sources. Stakeholders have also participated in watershed-wide annual stormwater quality and flow monitoring supported by RCFC&WCD, EVMWD, and the San Jacinto River Watershed Council. Additionally, LESJWA has performed numerous studies of each lake, and has begun to implement projects expected to result in improvements to in-lake water quality.
In 2004, the Regional Board prepared the Lake Elsinore & Canyon Lake Nutrient TMDL Report. This report framed the stakeholders' monitoring/modeling efforts to characterize in-lake water quality, while providing the basis for recommendations to the Regional Board.
In July 2006, local stakeholders formed the Lake Elsinore & Canyon Lake Nutrient TMDL Task Force.
Pre-Post Canyon Lake Alum Monitoring Memo_DRAFT Sept '16
TMDL Monitoring Plan and Quality Assurance Project Plan (QAPP)
US Forest Service TMDL Monitoring